With design thinking embedded in our culture, we think ahead and innovate products for modular kitchens industry. It is also deeply rooted in our partner blum and that's evident from the TIP-ON BLUMOTION Technology. In the modern living environment, we're presenting handle less smooth fronts using motion technology. By means of touch, you can open drawer and use with absolute convenience thanks to BLUMOTION technology.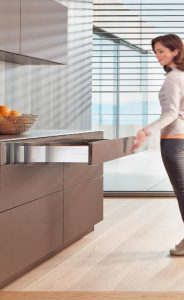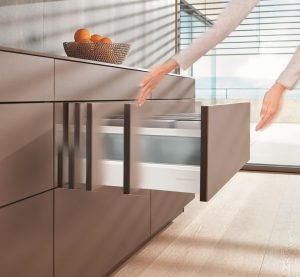 The cutting edge Tip-On-Blumotion technology opens drawer fronts with just a gentle touch in absolutely smooth running channels. Because of that, we can close them effortlessly and silently. This allows exceptionally well synchronization while operating modular kitchen drawers & maintains flawless motion. Because of that, It's a perfect solution for handle-less furniture, completely mechanical and could be assembled by carpenter. Tip-On-Blumption is always fully functional (24X7) and remains securely closed even if it has been closed manually. Moreover, you can design your kitchen drawers by keeping small front gap of only 2.5 mm, therefore gives maximum space utilization and classy look to your modern kitchen.
It's the technology of future and provides real inspiration to modular kitchens industry with its undeniable ease of use. We've mastered this art to redefine modular furniture & modular kitchens concepts with the use of handle-less drawers. 
Thoughts ? Let us know your views, we're coronet.